In a very little period of time, Nifty gave up on the pullback bounce and began moving downhill with a lower high, lower low pattern. The rise in Nifty over the last two days turned out to be nothing more than a false relief response, as the majority of gains vanished and, more crucially, the benchmark closed the day at its lowest position.
The benchmark index saw a gap down opening of about 100 points on June 22. This gap down opening resulted in a lower high, lower low pattern, which maintained the intraday chart's bearish bias. On the daily chart, the index lost about 1% and closed below the 15,500 levels.
This is the first time since July 2020 that prices are trading and maintaining below weekly 200-week exponential moving averages. In terms of indicators, the momentum oscillator RSI (14) has been creating a lower bottom since October 2021 and is still doing so. On the daily and weekly time frames, the RSI has currently settled below 40 levels with a bearish crossover.
Also Read :- TCS Wins Deal From Aadhar Housing Finance To Improve Business Operations
The previous year's low, which is located at 14,800 levels, will be challenged if prices close below the Nifty's support level, which is situated near 15,200 levels. The index's immediate resistance on the upward side is set around 15,750 and 15,900 levels, respectively.
Here are two buy calls for next 2-3 weeks:
Ipca Laboratories: Buy | LTP: Rs 889 | Stop-Loss: Rs 850 | Target: Rs 940 | Return: 6 percent
On the daily chart, Ipca Laboratories displayed a breakthrough from consolidation on June 21. Since then, prices have created an accumulation phase around Rs 850 levels.
In terms of candlesticks, prices have completed a basing formation at the lower level of the Inverted Hammer Bullish Reversal pattern on the weekly time frame.
Relative strength index (RSI-14), a momentum oscillator, saw a dramatic reversal from oversold levels and has since been ranging between 30 and 40 levels. On the daily time scale, the RSI just saw a range breakout above 40 levels with a bullish crossing.
Also Read :- IT Sector Stocks Down Upto 50% From 52-Week Highs But Analysts Still Believe 'Underperformance'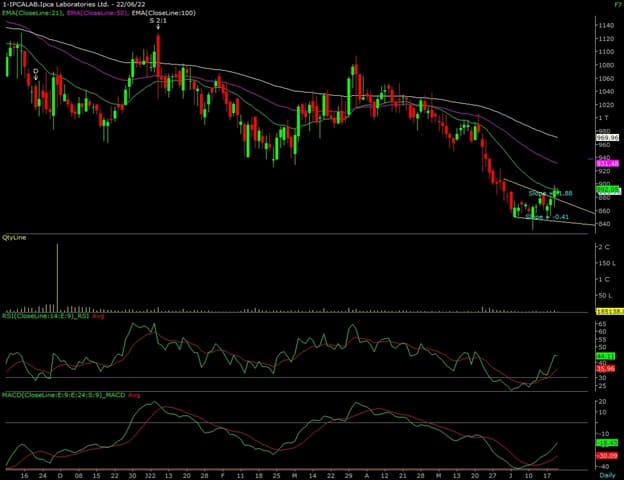 Birlasoft: Buy | LTP: Rs 342.55 | Stop-Loss: Rs 329 | Target: Rs 364 | Return: 6.2 percent
At Rs 320 levels, the stock's bullish ABCD Harmonic pattern was completed. At this moment, prices are trading in the weekly time frame's PRZ (possible reversal zone).
Prices have completed a base formation towards the bottom level of the Bullish Harami pattern on the weekly time frame, according to candlestick analysis.
The momentum oscillator RSI (14) has maintained above 30 levels and is exhibiting a bullish divergence at oversold levels. In addition, prices have reached the end of their 50% retracement from the low point in March 2020.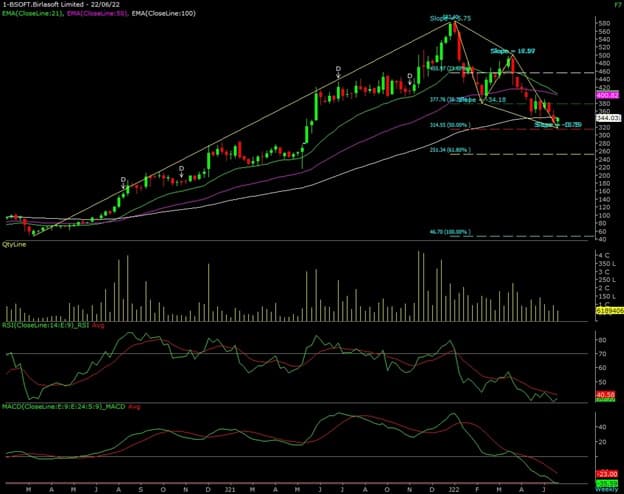 Also Read :- NSDL Initiated Talks With Investment Banks For ₹4,500 Cr IPO
Disclaimer :- The views and recommendations made above are those of individual analysts or broking companies, and not of Ours.