Analysis By:- Rohan Patil, Technical Analyst at Bonanza Portfolio Ltd.
Following the bearish breakdown on June 13, the Nifty has been stabilising in a limited range for the previous two trading days.
The Nifty rose from 15,800 to 16,800 in the last rally, but it was unable to break through its lower high lower low shape on the daily chart. The index is already down 3% for the week, and blue-chip stocks are being sold by foreign institutional investors (FIIs).
The index is now trading below its 21–day and 50–day exponential moving averages (EMAs) of 16,250 and 16,523, respectively. The overall slope of the moving average has also decreased, indicating that the decline will continue.
On the daily chart, the momentum oscillator relative strength index (RSI -14) has broken its upward rising trend line, which was set at 45 levels, and is now trading below 40 levels, indicating a bearish crossing. The moving average convergence divergence (MACD) indicator dropped downward after encountering significant resistance at its centre point.
Also Read :- Paytm Loan Disbursements Rises 471% In April-may
A pullback rebound is usually predicted following such a big drop in the index. The Nifty's immediate support is at 15,550, with 15,300 acting as main support below that. At 16,000 and 16,250, there is quick resistance.
Here are two buy calls for next 2-3 weeks:
Oil India: Buy | LTP: Rs 271 | Stop-Loss: Rs 255 | Target: Rs 298 | Return: 10 percent
The stock completed its flashback in the previous week, which was near to its trend line support, after breaking out of a trend line on the weekly chart that was put at Rs 260 levels.
The stock is trading above its 21 and 50–day exponential moving averages, which are at Rs 259.8 and Rs 246 respectively. When the price retraced its 21-DEMA before, it saw a big bullish reversal.
Prices have provided a 28-week consolidation breakout, and the counter is maintaining above its trend line support on a larger time horizon. Furthermore, the breakthrough occurred with higher-than-average volumes.
Also Read :- Rakesh Jhunjhunwala Books Profit In Delta Corp Share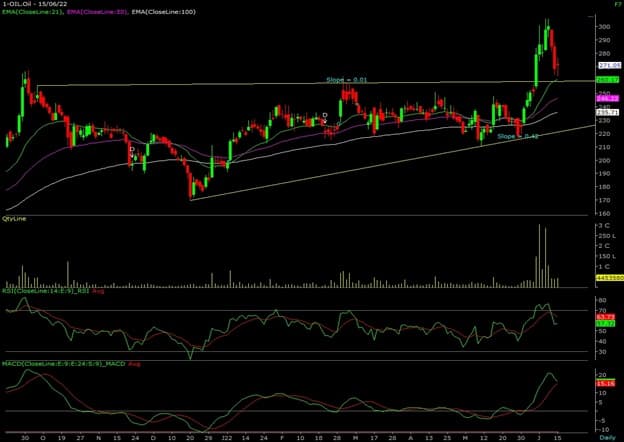 Polycab India: Buy | LTP: Rs 2,218.6 | Stop-Loss: Rs 2,100 | Target: Rs 2,410 | Return: 8.6 percent
The horizontal trendline, which is located at Rs 2,200 on the daily time frame, is providing strong support to prices. It developed a Bullish Harami candlestick pattern near its trendline support on June 15, indicating a potential reversal.
On the daily time period, the RSI (14) is also displaying signals of reversal from oversold levels. Prices have risen sharply from Rs 2,200 on a few of instances. If the stock maintains its current level over Rs 2,400, it is expected to rise higher.
Also Read :- Tyre Stock Announces 200% Dividend & 800% Special Dividend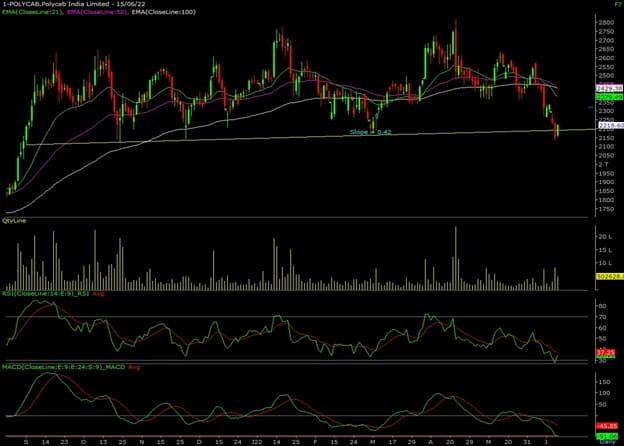 Disclaimer :- The views and recommendations made above are those of individual analysts or broking companies, and not of Ours.